"There is no place for arrogance in the arts, but neither is there room for doubt or a perpetual need for affirmation. If you come to me with doubts about a particular move in a piece, or if you come to me and ask if what you've written has truth and power in it, these are doubts I can handle and respect. But if you come to me and moan about whether or not you really have a place in the dance or the theatre or in film, I'll be the first person to pack your bags and walk you to the door. You are either admitting that you lack the talent and the will, or you are just looking for some easy attention. I don't have time for that. The world doesn't have time for that. Believe in your worth and work with a will so that others will see it. That's how it is done; that's how it was always done." — Martha Graham
MAHMOUD REDA
Mahmoud Reda was artistic director and choreographer of the Egyptian dance company, the Reda Troupe, from 1959 to 1990. He was famous for his ability to translate Egyptian folk dances into choreographies for the large stage. "When you watch the real thing, you will be happy because you can join, because you can sing with them, you can even clap with them, so you feel happy. But if you buy a ticket at the opera house and sit, you don't expect to see this. Any normal thing, you put it on stage, is not normal. You can not bring a tree from its place and put it on stage, or a house and put it on stage. Even the people, when you bring them, the real folkloric dancers, put them on stage, they look odd, they look strange. Their costumes, they don't know where to look, they don't know, and if they do their things, it's very monotonous." -- from an 2003 interview by Morocco.
The Reda troupe started out as a family affair; Ali and Mahmoud Reda, their wives, Nahdeeda and Farida Fahmy, and their mother-in-law, Khadija Fahmy (supervising costumes and props and chperoning the female dancers).
The first performance was in 1959. The troupe became world-famous, growing to 150 dancers, musicians and technicians and travelling to more than 50 countries.
The Troupe became a government entity in 1961, which was at that time a productive change. However, over the years, bureaucratic control developed that proved fatal to the group as it was then organized. In 1990, Reda, who was officially a government employee, was forced to retire because he was 60. Ms Farida Fahmy,writing in her biography of Mahmoud Reda: "The Reda Troupe was the pioneer dance troupe. It set in motion the creation of folkdance groups in the provinces, universities and schools all over Egypt. Sadly, today the Reda Troupe exists in name only... the government bureaucracy and red tape that had already created many obstacles to thwart further artistic developments put Mahmoud Reda on pension in 1990. The Reda Troupe was subsequently left in the hands of members of the Troupe that possessed no drive, talent or artistic tendencies. All the teachers and choreographers that have emerged from the Reda Troupe, as well as, other dance groups, have not produced any remarkable innovations to date; their works only continue to perpetuate the Reda style, technique and teaching methods."
Mr Reda still tours all over the world teaching workshops.
Morocco's book, You Asked Aunt Rocky, includes a 10-page transcript of her interview with Mahmoud Reda in 2003: just one more reason to buy this excellent book. The online version of the interview is on her website.
MAKEUP
Fat Chance Belly Dance has put their Old School makeup and costuming video on line. As in, now free.
Wayburn on Stage Makeup: early 20th century stage makeup tricks.
Dancer's Basic Makeup for Performance & Photography DVD by Azhia is highly recommended.
Ben Nye, Mehron, and Kryolan brands are frequently cited as the best theatrical makeup source. They are carried by many distributors. NorCostCo.com carries all three. Ben Nye is said to be especially hypo-allergic.
Arabic eye makeup look:
A maqam is a melodic mode in Arabic music.
MARRAKECH FOLK ARTS FESTIVAL in Morocco
November 11: St. Martin took his own cape from his shoulders, tore it and gave half of it to a poor beggar shivering in the cold. Truly an acclaimed author, instructor, and performer in Middle Eastern Percussion. uthor, instructor, and performer in Middle Eastern Percussion.
MARTHA GRAHAM
Probably the most famous of the Denishawn dancers who broke away and worked towards their own vision of modern dance.
MASHA ARCHER
In a 1996 interview, Carolena Nericcio of Fat Chance Belly Dance described her own teacher, Masha Archer, as a dancer for whom authenticity was based on what she, as an artist, envisioned, and not on adherence to any specific genre of ethnic dances. "One thing that occured to me years later was that she wasn't a bellydancer, she was an artist. She's a visual artist. She has a Midas touch when it comes to creating art. I think she just happened along dance at some point, and decided to dance for awhile. What she did with the dance was just incredible. I don't think she was concerned at all whether something was traditional or considered culturally appropriate; she just had a feeling for mood, timing, rhythm, & what to do."
Masha is a visual artist who started out as a costume designer, moved to dancing, and then established a place in the world as a jewelry designer. She was not concerned with tradition; she was creating patterns with mood, rhythm and movement
Adapted from a FaceBook post by Masha Archer's daughter, Larissa:
Masha studied with Jamila for two or two and a half years and then established the San Francisco Classic Dance Troupe. She was not at all interested in keeping the dance "authentic" for authenticity's sake. She wanted a dance that she felt was appropriate for the modern western woman. She discarded certain elements that she felt were associated with nightclubs and mens's clubs (like floorwork) or that risked injuring her dancers (like Turkish Drops). She wanted a dance that [Western] people would acknowledge as art.
She kept elements she did like and altered them as she saw fit to suit her taste. For instance, she wanted feet close together in moves like the Egyptian basic, and she emphasized what we now think of as ATS posture, and emphasized the lifted elbows that are so important to this dance. According to her these were tweaks to the moves she learned from Jamila. NOW, because she was not interested in keeping the dance (or dances) authentic, she didn't want any guff from people about her lack of authenticity. So she used the word "American" to describe the dance she was teaching and performing. Also, Jamila loved belly dance, but was (at the time) very pessimistic about it ever being part of a different world from the nightclubs. Mom wanted to present this dance in more mainstream venues. She had her group dancing at book fairs, gallery openings, parades, artsy parties, city hall, etc. And she disallowed her dancers from performing in nightclubs or bars (she even got an offer from the SF 49ers to dance at a party for the team, but she wasn't sure it would be safe for them so turned it down). Part of what she felt would bring belly dance out of the nightclub was the chorus, or the tribe. Rather than a lone woman out dancing by herself like in a nightclub, the chorus surrounded and protected her (figuratively, of course), and would 'teach' the audience how to regard the featured dancers. Seeing the chorus support and respect the featured dancers would influence the audience to do the same. SO the 'tribe' was very important to her, and when asked about her style, she said, 'American Tribal.'
THIS DOES NOT MEAN HER DANCE WAS THE SAME AS WHAT WE KNOW OF AS ATS, OR THAT SHE IS THE CREATOR OF ATS. [Today's] more complicated [ATS] moves are possible because of the codification of the dance, the setting down of group formations, and the establishment of cues. Carolena's codification of everything has meant that many more moves could be added to the dance form, and that the basic moves can be done in a multitude of new ways. and Carolena has also altered some of the moves that she has kept over, just as mom altered the moves she got from Jamila. But the addition of moves from kathak and flamenco, those are also all Carolena's.
From Lariss Archer's interview with her mother, Masha, in a 2014 article in Nob Hill Gazette:
LA: You started a dance company that has been quite influential in the world of belly dancing, including inspiring one of your former students, Carolena Nericcio, to go on to form her own company, Fat Chance Belly Dance, which has since become quite famous. How did dance fit into your work as an artist and a designer?
MA: Whatever I'm doing, it is always for the same purpose: to use combinations of line, color, and texture to create beautiful images. Dance is part of that, and all of my influences and inspirations, which I derive from art and folk traditions from around the world, were present in my vision for the troupe's costume and movement aesthetics, just as they were present in my clothing designs — and remain present in my designs for jewelry. It's all the same.
LA: What do you say to women who think your work is too big or bold for them to wear?
MA: I hear that a lot. 'm very tempted to blame those who should have disabused them of such mousy thoughts by now and haven't done so yet!
References:

SUMMARY: Mata Hari, famous as an 'Oriental' dancer, a femme fatale, and a spy, established her place in history for both her career as a legendary exotic dancer and her resolute courage in front of the firing squad when she was executed for spying.
MAUDE ALLAN
Canadian-born musician and dancer who was active in Europe in the early twentieth century. She is remembered chiefly for her performance in Vision of Salome.

Her autobiography, My Life and Dancing, is in the public domain.

The Middle Eastern Dance Society of Kentuckiana. Some folks call this a folkloric dance, others say it was invented by Reda. I suppose it depends on whether you are using the melaya leff (wrapped cloak) as a prop, which was done before Reda, or if you are doing the flirty kind of dance Reda choreographed, which seems to be what most folks mean when they say Melaya Leff dance. September 29: Michael nam Buadh, Michael the Victorious, the Archangel who hurled Lucifer down from heaven for his treachery.
MIDDLE EAST
The Middle East area includes both Arabic and non-Arabic countries. The four major languages in the Middle East are Arabic, Hebrew, Persian and Turkish.

From the Encyclopedia Brittanica:

"The lands around the southern and eastern shores of the Mediterranean Sea, extending from Morocco to the Arabian Peninsula and Iran and sometimes beyond.

"The first modern Western geographers and historians tended to divide the Orient into three regions. Near East applied to the region nearest Europe, extending from the Mediterranean Sea to the Persian Gulf; Middle East, from the Gulf to Southeast Asia; and Far East, those regions facing the Pacific Ocean.

"The change in usage evolved prior to World War II and were confirmed during that war, when the term Middle East was given to the British military command in Egypt. Thus defined, the Middle East consisted of Turkey, Cyprus, Syria, Lebanon, Iraq, Iran, Palestine (now Israel), Jordan, Egypt, The Sudan, Libya, and the various states of Arabia proper (Saudi Arabia, Kuwait, Yemen, Oman, Bahrain, Qatar, and the Trucial States, or Trucial Oman [now United Arab Emirates]. Subsequent events have enlarged the lands included in the definition. The three North African countries of Tunisia, Algeria, and Morocco are closely connected in sentiment and foreign policy with the Arab states. In addition, geographic factors often require statesmen and others to take account of Afghanistan and Pakistan in connection with the affairs of the Middle East.

"Occasionally Greece is included in the compass of the Middle East because the Middle Eastern (then Near Eastern) question in its modern form first became apparent when the Greeks rose in rebellion to assert their independence of the Ottoman Empire in 1821. Turkey and Greece, together with the predominantly Arabic-speaking lands around the eastern end of the Mediterranean, were also formerly known as the Levant.

"Use of the term Middle East, nonetheless, remains unsettled, and some agencies (notably the United States State Department and certain bodies of the United Nations) still employ the term Near East."
MOHAMED ABDEL WAHAB
The most prolific Arabic composer of the 20th century, writing more than a thousand songs.

American dancer, teacher and researcher, active since the 1960s. She has been a vocal and active influence for authentic Middle Eastern Dance for decades. Her dance company has received major arts grants and performed in prestigious venues. She has received awards from major dance organizations, written for many publications, produced a series of videos recording the ethnic dances of the Middle East, led numerous dance tours to the Middle East, and, in 2011, produced her long awaited book on the history, performance, practice and business of Middle Eastern Dance, YOU ASKED AUNT ROCKY: Answers & advice about Raqs Sharqi & Raqs Shabbi

In an article entitled Dancing to a Degree: Morocco in a 1989 issue of Middle Eastern Dancer, Bedia describes Morocco as holding a B.A. in Modern Language and Education and an M.A. in Political Science. She is also a member of Mensa, an unusual attribute that "permitted Morocco to perform and lecture in many places that she might not have otherwise, including museums, universities, and elementary schools. " She has traveled to and studied traditional music and dance in Morocco, Egypt, Tunisia, Lebanon, Algeria, Turkey, Greece, Jordan, and Syria." Her gift for languages allowed to lecture and teach in Spanish, French, Russian and sometimes even Greek and German." Her training in Political Science aids her understanding of the social and political climate of the various countries in which she does her research. "Her awareness of .. forces impacting a country's dances channels her own focus on dance toward reality and authenticity, rather than fantasy and speculation."

Morocco performs at the Lafayette Grill in NYC in 2006.
MOVIES
Do old silent films qualify as an ethnic art? If not, why not?
MUMMERS
St George is a popular theme. The Pernicious Influence of Music on Dance, in which The Proprietor presents the strongly-worded Opinions of Experts on such universal concerns as:
Evolution or Disaster?
Live Music vs. Canned
Do Some Musicians Sabotage the Dancers?
Should Dancers Sing and Tell Jokes?
in the fervent hope that if we cannot Agree, we can at least Laugh.
MUSIC LICENSING
Grand Rights:

Licensing issues for dramatic performances such as musical plays, operas and ballet scores. "While the line between dramatic and non-dramatic is not clear and depends on the facts, a dramatic performance usually involves using the work to tell a story or as part of a story or plot."
More information on Grand Rights from SendroffBaruch.com.
MUSIC MODES
Musical modes: Different modes are constructed by starting a major scale on a different note, maintaining the whole and half tones of the major scale. Each mode is a scale that has the same notes as the major but a different feeling, since the tones and semitones are now in a different pattern. This means the modes are also diatonic like the major scale is.

I Don't Punch Like Mohammad A Li W = whole step, H = half step. (On a piano, white key to white key = whole; white key to black key = half.)
Ionian. A 'major' sounding mode. The Ionian mode has exactly the same intervals as a major scale and is the most common. The most common mode in Irish music.

WWH WWWH

Dorian Mode (begins on second scale degree of major scale). D E F G A A# C

TST TTST

Phrygian Mode (begins on third scale degree of major scale)

STT TSTT

Lydian mode (4th degree)

TTT STTS

Mixolydian mode (5th degree). A 'major' sounding mode. A common mode in Irish music.

WWH WWHW

Aeolian mode (Natural Minor, 6th degree)

TST TSTT

Locrian Mode, (7th degree)

STT STTT
MUSIC TRIAD
A Triad is a three-note chord.
MUSICAL TERMS
From Feiruz Aram via Marguerite Kusuhara.
ALLREGRETTO: When you're 16 measures into the piece and realize you took too fast a tempo.
ANGUS DEI: To play with a divinely beefy tone.
A PATELLA: Accompanied by knee-slapping.
APPOLOGGIATURA: A composition that you regret playing.
APPROXIMATURA: A series of notes not intended by the composer, yet played with an "I meant to do that" attitude.
APPROXIMENTO: A musical entrance that is somewhere in the vicinity of the correct pitch.
DILL PICCOLINI: An exceedingly small wind instrument that plays only sour notes.
FERMANTRA: A note held over and over and over and over and . . .
FIDDLER CRABS: Grumpy string players.
FLUTE FLIES: Those tiny mosquitoes that bother musicians on outdoor gigs.
FRUGALHORN: A sensible and inexpensive brass instrument.
GAUL BLATTER: A French horn player.
GREGORIAN CHAMP: The title bestowed upon the monk who can hold a note the longest.
PLACEBO DOMINGO: A faux tenor.
SPRITZICATO: An indication to string instruments to produce a bright and bubbly sound.
TEMPO TANTRUM: What an elementary school orchestra is having when it's not following the conductor.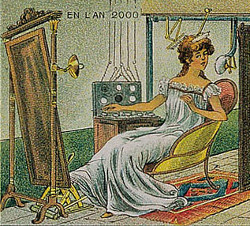 Makeup application in the year 2000, visualized by French artist Villemard in 1910.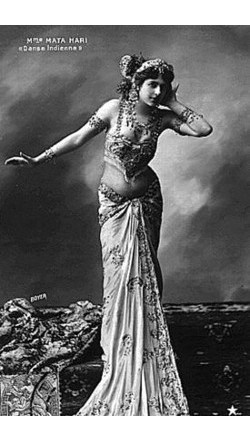 Mata Hari in her prime. Photographer unknown.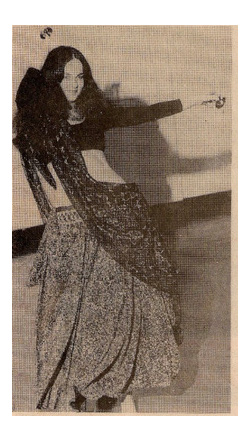 Jamila Zahran, a founding member of MEDSOK, in the 1981 Madison Messenger.