The Impressionist Dancer
Her most memorable endeavor was her lengthy collaboration with her husband, Ted Shawn, in the development and promotion of the Denishawn dance company and schools.
Her earliest successes as a solo artist incorporated many of the same elements as Mata Hari used in her brief career: orientalist impressions, exotic costumes and music, and a dance persona that appealed to wealthy patrons. Her earliest 'Oriental ballets' were based on little more than photographs and book readings; she had no access to authentic Indian or Japanese dance teachers. Unlike Mata Hari, though, Ruth St Denis was a trained dancer with experience in vaudeville, Broadway and touring productions before she achieved success as a soloist.
Usha Venkateswaran, an Indian dancer and producer, on St Denis's Indian dance impressions:
Ruth St. Denis visited Indian in 1926 with Ted Shawn and she succeeded in capturing some of the impressions and essence of the country, which she interpreted in her own way. Her dance pieces, Sari dance, Incense, etc., were simple but exotic for the American audiences and were very popular for a limited period of time.
Jane Sherman, a student and Denishawn member, on St Denis as a teacher:
Essentially a solo performer, she [St Denis] taught what she could of her Oriental impressions which stemmed from a sort of acting-in-motion rather than from 'pure' dance...It was her charming and witty personality -- an unforgettable combination of ethereality and earthiness -- of Quan Yin and Ruthie Dennis, the eight-day bicycle rider -- that I remember more clearly than her classes.
Barbara Sellers-Young, a noted dance scholar, offers the following assessment of St-Denis' work:
St. Denis performances were situated at the conjunction of information gained from books, art, and the explanations of spirituality provided by the Indian immigrant community. Her first performances based on India were staged in the private homes of New York elites for guests such as the Gaekwar of Baroda. Supported by a group of society women charmed by her version of the Hindu goddess Radha, St. Denis received a positive review in the New York press which ultimately provided her the necessary financial backing to tour throughout the American Vaudeville circuit. Although St. Denis would return to New York throughout her life, her career and the development of the company Denishawn with husband Ted Shawn would integrate ongoing tours of the United States with a school in Los Angeles and involvement in the Hollywood film industry.
The Orient for St. Denis was not a lived space of actual people, but an abstract space that had been revealed to her through her meditations on art and such texts as The Bhagavadgita, Christ and the Indian Road by Stanley Jones, The Gate Beautiful by John Ward Stimpson, and Buddha and the Gospel of Buddhism by Ananda Coomaraswami. Instead, St. Denis admits: "My final art is impersonal, for when I dance I am really an abstraction, a creature set apart from time and space, unrelated to human things in the ordinary sense. I feel a certain limitless state of being, a curious unending movement not only of my dance, but of my very being."
While her performances have been categorized by some dance scholars (Desmond 1991) as fitting within Orientalism's framework, her concern was not overtly related to the construction of power articulated by Said. Her performances were instead a staged version of a personal and metaphysical quest of which the female gods of the Orient were symbolic representations.
Collaboration with La Meri
Ruth St Denis was aware that her "Oriental impressions" were just that: impressions, and she understood that her command of the authentic was limited. After attending a lecture by La Meri on Indian dance and costume at the Museum of Costume Arts in NYC, she burst into her [La Meri's] dressing room. 'My dear,' she cried, 'I will not take no for an answer, I simply will not, you must open a school...Do you realize the fount of knowledge you can bring to your country? The generations you can feed with the knowledge of the savant and the fire of the artist? All I want is to sit at your feet and, at long last, learn the true technique of the Eastern dance.' She paused for breath. 'By the way, I am Ruth St. Denis' she said absently." La Meri, who had never intended to teach, agreed to teach, and together they immediately opened a School of Natya in NYC. Ms St Denis and La Meri became staunch friends and on occasion would perform joint concerts together. As Ruth St Denis explained in her opening remarks for one of these concerts, "La Meri will do these dances as they have been done for centuries in the land of their origin. Then I will do them as I darn well please."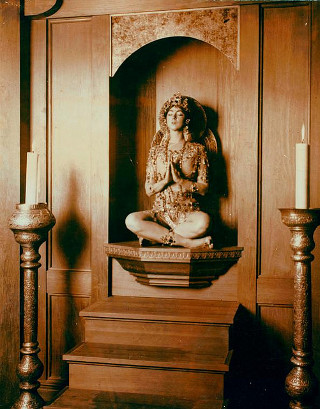 Timeline
1879

Ruth St Denis is born in Newark, New Jersey.

1968

Ruth St Denis dies in Hollywood California.
References
Susan Gillis-Kruman, Brief Biography of Ruth St Denis, University of Pittsburgh, Web.
Thom Hecht, Ruth St. Denis, America's Divine Dancer, Dance Heritage Coalition, Web.
Dr. Kusum Pant Joshi, Biography of Ruth St. Denis.
La Meri, Dance Out the Answer.
New York Public Library Collection of Ruth St. Denis photos
One Hundred Dance Treasures, Ruth St Denis, Dance Heritage Coalition. Includes a video of St Denis peforming Incense in her 70s.
Barbara Sellers-Young Sellers-Young, Serena Wilson, a Student of Ruth St Denis, Gilded Serpent, Web.
Jane Sherman, Soaring, The Diary of Letters of a Denishawn Dancer in the Far East, 1925-1926.
Usha Venkateswaran, Life and Times of La Meri, The Queen of Ethnic Dance.
Videos: