The Ballets Russes was a collaboration between a group of Russian artists who were disaffected with the conservative, traditional arts scene in Russia. This group included the painters Leon Bakst and Alexandre Benois, art exhibitor Serge Diaghilev, and the choreographer Michael Fokine. Their radical movement away from conventional Russian ballet ended up with the establishment of a permanent touring ballet company in Paris, the Ballets Russes, which never returned to Russia. The Ballets Russes rejuvenated the European ballet which had been in decline for decades.

"That company, the Ballets Russes, was to be the most glamourous and influential theatrical enterprise in Europe in the 1910s and 1920s." —Kyril FitzLyon

"ALL who regard dancing seriously, and there is nothing which should be regarded more seriously than an art that is to give pleasure, must be glad that they have lived in a century which has witnessed a very fine and sincere endeavor to restore the dance to some of its primal nobility. There is much in the results of this endeavor to criticize, there are a few things to deplore, but in any refusal to recognize the magnitude of what has been accomplished, there is probably some pique that it has been the nation which Europe still views as barbarously ingenuous in matters of art which has reformed the ballet on such refined and spiritual lines... HAD the male dancers ever been excluded from the Imperial ballet its fate would have been very different. The men are trained on the 'ballon' system, not on that which is known as the 'parterre,' and it is 'ballon' dancing which is one of the most beautiful features of the Russian ballet. After we have watched interminable exercises ingeniously performed 'sur les pointes,' with what relief have we seen Nijinsky, perhaps the greatest 'ballon' dancer who has ever existed, bound on to the stage, rise high in the air, descend slowly and with such art that when he touches the ground he can use it again for a still higher flight... What always surprises us about the Russian ballet is its life. This vitality came sweeping on to the stage with Russian maîtres de ballet such as Fokine, who used tradition, used the technical perfection of classical dancing, but would not be a slave to them; with Russian composers such as Borodin, Rimsky-Korsakoff, Glazounof, Liadoff, Arensky, Stravinsky and Tscherepnin, the conductor of the ballet; with Russian artists such as Alexandre Benois and Leon Bakst; with Russian dancers such as Nijinsky... The Russian ballet has transformed itself in a little over a decade because its guiding minds have been more than national. The musicians, artists, dancers and ballet masters have depended more on invention than on reality. Many stories of widely different character have been drawn on for the new ballets, but all have been treated with an imagination which is neither the property of a nation nor the result of patriotism." — Ellen Terry
TIMELINE
1866

Leon Bakst, who would go on to fame as theatre designer for the Ballets Russes and Ida Rubinstein, is born in Russia.

1872

Serge Pavlovich Diaghilev is born.

1889

Nijinsky is born.

1896

Leonide Massine is born.

1898

Diaghilev becomes editor of the influencial journal, The World of Art.

1906

Diaghilev opens a exhibition of Russian painting and sculpture in Paris.

1907

Diaghilev introduces a series of concerts of Russian music to Paris.

1909

Nijinsky and Diaghilev become lovers.
Diaghilev launches his first season of Russian ballet in Paris with a company of dancers on vacation from the Russian Imperial Theater.

1910

Michel Fokine's ballet Schéhérazade, designed by Leon Bakst, creats a sensation and sparks a fad for Oriental clothing and home furnishings.
Michel Fokine's ballet The Firebird, musical score by Igor Stravinsky, is produced, with Nijinski as Favorite Slave and Ida Rubinstein as Zobeide.

1911

Diaghilev splits with the Imperial theatres and establishes the Ballets Russes as a permanent touring company with Michel Fokine as the principal choreographer. Fokine would produce more than twenty works for Diaghilev, and his choreographies established the base for the repertory of the Ballets Russes.. The company never returned to Russia.
Diaghilev appoints Nijinsky as a choreographer.

1912:

Michel Fokine quits the Ballets Russes.

1913:

Mikhail Fokin rejoins the Ballet Russes, assuming choreographies and dance roles that had previously been assigned to Nijinski. Fokin created three ballets, including Le Coq d'Or, before the outbreak of WWI.
Nijinsky marries dancer Romola de Pulsky, and Diaghilev dismisses him from the company.

1914

World War 1 begins on 28 July.
Fokine returns to Russia.

1915

Leonide Massine emerges as Diaghilev's love interest and the principal dancer and choreographer of the Ballets Russes.

1917

A five-year series of Russian Revolutions starts with the abdication of emperor Nicholas II and ends with the victory of Lenin's Bolshevik party.

1918

World War I ends on 11 November.

1920s

Bronislava Nijinska, George Balanchine, Igor Stravinsky, and Serge Prokofiev keep the company at the cutting edge of dance and theatre.

1924

Bakst dies in Paris.

1929:

Diaghilev dies. The Ballets Russes breaks up, but his dancers and choreographers go on to new successes of their own.

1930s:

Fokine and Massine continue their careers at the De Basil Ballet, reviving many of the works created for the Ballets Russes as well as creating new masterpieces.

1950

Nijinsky dies.

1979

Leon Massine dies in Germany.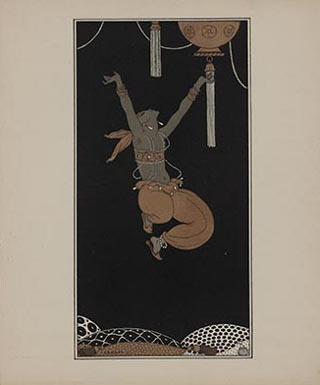 One hundreds years later, Nijinksi, superstar of the Ballets Russes, is still a dance legend. Image from the Library of Congress collection.
REFERENCES
Ellen Terry, The Russian Ballet, Bobbs-Merrill Company, Indianapolis, 1913.
Vaslav Nijinsky, The Diary of Vaslav Nijinksy, Translation by Kryil FitzLyon, edited by Joan Acocella, published by Farrar, Straus and Firoux, New York, 1995.
Ballets Russes Exhibition items at the online Library of Congress.
20th Century Ballet Revolution exhibit at the Victoria and Albert Museum.