Biography
Mata Hari, famous as an 'Oriental' dancer, a femme fatale, and a spy, established her place in history with both her meteoric career and her resolute courage in front of the firing squad. She was the victim of the often-toxic combination of great beauty and a failure to convert that beauty into real power and financial security.
Mata Hari's images and her courage in front of the firing squad still bewitch us; people write books and ballets about her, dancers dress and undress like her, her home town in Holland is suing the French government in an appeal against her conviction as a spy.
Balzac and Guy de Maupassant would have appreciated she started her career as the goddess who men ruined themselves for and ended as an older woman who dabbled in spying to obtain money to finance a marriage with a younger man.
Was she really much of a dancer? Many of her own contemporaries found her to be a fraud. How did she manage to become famous? She was in the right place at the right time, and she was a mistress of context. Andrea Kolb has interesting insights into why Mata Hari was so popular. She DID remove all her garments on stage and she did NOT get arrested. And she had legions of female as well as male admirers. Why? Because she tied her rather erotic presentations to religious experience... dancing naked was Strip Tease, dancing to the Gods was art. In addition, the parlor game called the tableau, which involved participants recreating famous paintings for the enjoyment of their friends and family, was very popular in well-off European households. Participants would sometimes adopt erotic and/or exotic personas in this respectable outlet for respectable females. Mata Hari just did it better than anyone else, one very slow move at a time.
Mati Hari's concert at the Guimet museum in 1905 was the performance that established her as an international success. For this concert she permanently adopted the name Mata Hari and concocted a resume as an Indonesian dancer. According to Fitzroy MacClean's biography of her in his book about spies, Nine Lives: "The museum's pillared library, skillfully lit and wreathed in flowers, had become a kind of eastern shrine, while some of the more exotic exhibits, dramatically illuminated, had been left in their places to heighten the generally oriental effect." Her costume had been hand-picked for her from Monsieur's extensive collection: "a richly jeweled brassiere, a few bracelets and a few "diaphanous draperies loosely knotted well below her hips..."
Some important people suspected her real origin, but they were disregarded. From the Encyclopedia Britannica: "Tall, extremely attractive, superficially acquainted with East Indian dances, and willing to appear virtually nude in public, Mata Hari was an instant success in Paris and other large cities." Not EVERYONE was fooled: see this cartoon in Le Figaro in 1905, the same year as her debut at the Museum, portraying a conversation between a wealthy patron and a young dancer. Dancer: "Is it true that they are completely naked dances, the Indian dancer?" Patron: "No, she is covered with jewels." Response: "So?! That way I too would like to dance."
Timeline
1876:

Born Margaretha Zelle to a Dutch hat maker. Her father went bankrupt, her mother died, and her father disappeared. When she was observed in a serious flirtation with her teacher, she was sent to the Hague to live with an uncle.

1895:

Margaretha, now a very pretty young woman with no real prospects, responds to the nineteenth century version of an online dating site; a classified ad for a wife. The gentleman in question, Captain John MacLeod, was twice her age, but he was also in uniform (a life-long weakness for Margaretha), sported a magnificent mustache, and was on leave from his station in the Dutch East Indies. It must have seemed like the ultimate adventure to her. They married.

1897:

A son, Norman, is born. Several months later, the young family returns to the Dutch East Indies. Captain MacLeod turns out to have brought more than a uniform and a salary to the alliance; he is also an alcoholic, infected with syphilis, and feels entitled to keep native-born mistresses. Margaretha's great adventure turns into a nightmare.

1898:

A daughter Jeanne is born. Captain MacLeod is transfered to Medan, leaving his wife and children living with a friend. Margaretha takes advantage of his absence to attend Javanese dance dramas and to learn Malayalam. Captain MacLeod sent no money but lots of letters of advice on how to be a good wife. When the family is reunited, the marital problems resume: the husband drinking, keeping a mistress, beating Margaretha and blaming her for his problems.

1899:

Son Norman dies, possibly poisoned by:

An angry servant whose sister was seduced by Mata Hari's husband;
A treatment for the syphilis he inherited from his parents.

This event shattered John MacLeod. He copes with the death by blaming Margaretha.

1900:

Margaretha becomes ill, and John's military career hits a wall at the same time. He decides to resign his commission.

1902:

With the marriage in shambles, Margaretha, John and Jeanne return to Holland. John abandons Margaretha, taking their daughter with them. Margaretha obtains a legal separation. Alimony is allocated but never paid, leaving Margaretha penniless and unable to provide for her daughter or herself. Jeanne returns to her father and Margaretha relocates to Amsterdam, then back to her uncle at the Hague, then Paris, then back to Holland.

1904:

She returns to Paris with a determination to make her way. She had learned to ride in the East Indies and was a natural horsewoman. She enjoys a a successful debut in show business as a horsewoman at the Cirque Molier. Mr. Molier suggested that she put her natural attractions to even better use as a dancer. Capitalizing on her natural grace and rhythm, her exotic coloring, her years in the Indies and her fertile imagination, she reinvents herself as an exotic dancer born in India.

1905:

Monsieur Guimet sponsors her concert of so-called eastern dances at his museum, the Musée Guimet in Paris, a museum devoted to the religions of Egypt, classical antiquity and Asia.

1906:

Dances in Madrid, Monte Carlo, and Vienna. Legally divorced.

1907:

Returns to Paris and becomes the toast of the town.

1910:

She dances in Monte Carlo as Cleopatra to the music of Rimski-Korsakov. She then goes into semi-retirement as the mistress of a very rich stockbroker who is able to provide her with a chateau, horses, and the best in finery.

1911:

She performs in two ballets at the Scala in Milan, establishing herself in many minds as a truly professional dancer. However, the Ballet Russe disagrees; she auditions but is not hired.

1912:

Rich stockbroker runs out of money. Mata Hari, unwilling or unable to scale back on her expenses, starts looking for another very rich patron. By this time she is 36, with a reputation as both a man eater and a money eater. No suitable patron appeared.

1914:

World War I begins. Mata Hari returns to Holland and, posing as a Russian, finds the needed patron and begins dancing again to packed houses.

1916:

Bored with the Hague, she returns to Paris. Instead of re-establishing her career (she is forty at this point) she embarks instead on a series of affairs, but falls in love with a 25-year old Russian, a Captain Maslov. In order to accumulate the money she needs to impress the Maslov family, she decides to toy with spying, collecting money from both the Germans and the French in return for scraps of information and gossip that were easily obtainable from other sources and therefore (in her mind at least) not really a matter of spying.

1917:

The French begin interrogating her about her activities. Confronted with evidence of having received money from Germany, Mata Hari admits to having received money in return for promises for information but claims she never passed any information. Unfortunately, spy-fever was at a pitch in France and Mata Hari fit the profile: Her investigating officer concluded: " Speaking five languages... with lovers in every capital of Europe, moving in any number of different worlds and finding discreet accomplices in all of them, Mati Hari could justly claim to be une femme internationale." The qualities that made her an international star were now the qualities that condemned her. In February she was arrested. In July she was tried and, to her astonishment, she was convicted. In September an appeal was denied, and in October she was executed by firing squad with a now-famous display of dignity and fearlessness on her part. None of her many former friends or lovers claimed her body, so it was hauled off to a Paris hospital to be used as a cadaver by medical students.
Was She a Spy?
"Despite the intercepted telegrams, despite the various testimonies of this kind of that, the one thing that no one seems to have done was to produce hard evidence that she ever gave the Germans any information that was really of any value to them." -- Fitzroy MacClean
"Eighty-four years after France shot the legendary striptease artist Mata Hari for espionage during World War I, lawyers went to court to clear her name. The lawyers, acting for Mata Hari's Dutch birthplace, Leeuwarden, and the Mata Hari Foundation, said she was not a spy but the victim of a state conspiracy. Mata Hari, born Margaretha Zelle MacLeod, took money from both Germany and France, said one lawyer, Thibault de Montbrial, but gave away no classified information." ---New York Times 2001, Was Mata Hari Framed?
The late 19th and early 20th century has a certain Orientalist relationship to our own. Respectable women did not go anywhere unaccompanied. Clothing covered them head to toe. The goal of life was to marry well. Working women were in an impossible situation in respect to earning a living while remaining chaste. An education, owning property or having a profession was difficult when not impossible. Mata Hari's short, brilliant life of irresistible beauty, Erte gowns, Parisian hotels and bewitched men is the 21st century version of the Arabian Nights.
PS: The Guimet Museum is still in existence... but if you search for Mata Hari or Margaretha Zelle or even 1905 on the web site, you will draw a blank.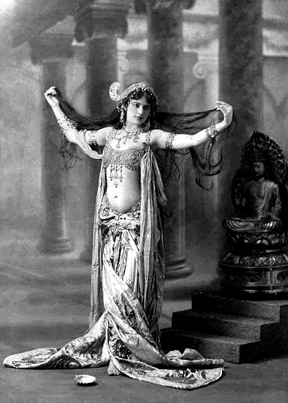 References
Print
Mata Hari Part One - the Maiden and Matron: Biography by Jamila Salimpour in Habibi Vol 10 #3
Mata Hari, Part II, Muse and Mistress:hBiography by Jamila Salimpour in Habibi, Volume 10 #4
Picture Galleries