Bollywood
The dancing in Bollywood films is primarily modeled on Indian dance: classical dance styles, dances of historic northern Indian courtesans (tawaif), or folk dances. In modern films, Indian dance elements often blend with Western dance styles, though it is not unusual to see Western pop and pure classical dance numbers side by side in the same film. -- www.BollywoodWorld.com
Bharata Natyam
People say that Indian classical dance is ancient, they also say that it has had an unbroken continuity. True, very true, but not all true. Whatever we see of Indian classical dance, which elsewhere I have given the appellation of the neoclassical dance, was indeed a conscious reconstruct of a tradition. -- Kapila Vatsyayan, in the Foreword to La Meri, Queen of Ethnic Dance.

Bharata Natyam reflects the culture of India at its best. The dancer uses the space as her own sacred temple and brings the audience into her magical circle as she performs and acts out stories with Gods and Goddesses from Indian mythology, folk tales and stories with emotional content. Being a living art form it has continued to enrichen itself changing with the times yet keeping its pristine beauty and nature intact. Linear geometrical patterns, a perfect balance of the body, eloquence of expression, and precision of footwork to intricate mathematical rhythms are the hallmarks of this dance. -- www.swatidance.org
THE DANCES that contribute to the SPICE
Bharatanatyam: A classical Indian dance style, originally performed in the temples of Southern India. Balance, intricate footwork, eloquent arms and complete control of facial expression are the hallmarks of this dance. Like ballet, mastery takes years.
Bollywood: The dancing in Bollywood films is based on classical Indian dance and folk dances. In recent films, Indian dance elements often blend with Western dance styles.
Bhangra: Originally, a harvest-season folk dance from Northern India. It has become very popular with Indians of all classes at home and abroad; colorful costumes and an irresistible beat account for its popularity.
Dandiya: A joyful stick dance that has also become very popular with Indians at home and abroad.
Kathak: The footwork and rapid turning movements of this classical Indian dance have influenced Bollywood from the beginning.
History and Context
Short video of Ram Gopal performing in 1947.
3-part interview includes dance clips.

Ragini Devi:

Seven-minute reading of her written thoughts on dance and related topics.
Ravi Shankar describes brother Uday.
Uday and Simkie perform Radha And Krishna.
Some refer to him as India's first modern dance choreographer.

Cinema Nritya Gharana blog on Indian dance in film.

The Third Sex in Indian dance tradition.
Events
Annual India Day in Louisville.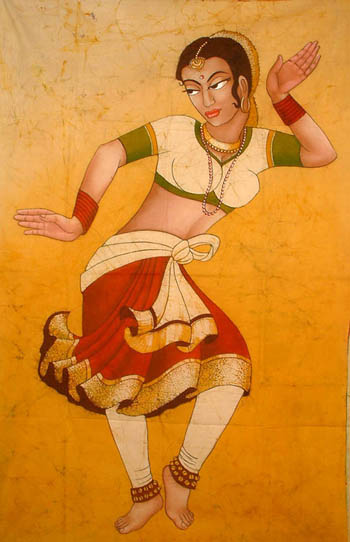 TEACHERS and PERFORMERS in KENTUCKY
Bharatanatyam and Yoga guru based in Mysore, India. She trains both Ruric-Amari and Akila Iyer on annual visits to Louisville.

Akila Iyer, Guru Vandana Academy

Bharatanatyam classes in Louisville.
Bollywood, Bharatanatyam and Indian Dance classes and performances. Dance studio located in the Clifton Arts Center in Louisville, KY

Anusha Ravishankar

Bharata Natyam teacher based in Lexington, KY. Anusharavi@gmail.com
U of L Bhangra team in Louisville.

Meena Deshpande

Kathak School of Louisville
Vocal and tabla based in Lexington.
North Indian dance.

Smitha Paily

Natya Kendra Dance Academy of Louisville (502) 599-3405