HISTORY
The history of sword dancing in the United States is debatable and debated. Feel free to join in!

The Martial/ Folkoric influence: The first sword dances performed by American belly dancers MAY have been imitations of martial sword dances, such as the Al Ardha of Saudia Arabia, traditionally performed by warriors before battle to increase morale. Aziza Al-Tawil claims that her mother Johanna and friend Aiyupa were the first to perform authentic sword dances of this type, in the 1960s. The Saudis often greet visiting dignitaries with a performance of Al Ardha.

The Orientalist influence: In the 1970s, inspired by some of the Orientalist paintings of the 19th century, numerous dancers began using the sword as a balancing prop, sometimes balancing several swords at once. Rhea is often referred to as the first belly dancer to balance a sword in a club venue. These dances could be further split into:
Strictly Entertainment, often flirty or sultry;
Dramatic, with Feelings.
DANCING with a SWORD
"Of old times there was a beautiful courtesan Kung-sun,
When she danced the sword dance everyone was moved;
Those who saw her were massed like the hills tense with emotion;
Heaven and earth swayed in sympathy up and down."— Tu Fu
Ruric-Amari:
Practice, practice, practice. Here a few things I recommend before getting started with your sword.
If you are taking chances and really connecting with your sword, most likely you will drop it all over the place. I would recommend having a cheap sword for really experimental practice and buy a light practice/performance one to really show off when you are on stage.
Don't assume your dance sword will automatically balance. If you buy a cheaper style, you will have to make adjustments. Adjustments should be slow, done in very small increments, and may have to be repeated throughout the life of your sword. What works best with mine is lay it flat on your knee in the problem area and use a gentle push with the hands on either side of the problem area. If balance is the problem, push gently throughout the direct middle and either end of the sword. If the sword blade is bent, then apply pressure on either side of the bent area. Gentle experimentation will help you get to know your sword.
Develop your line and balance through turns, a strong core, and full body awareness. Delsarte and Pilates are wonderful for all of these things.
Start making it a way of life by balancing household items. Start with a book and move to a water bottle. If you can go about your daily routine with something balanced on your head, your sword will require much less effort.
Make sure your dancing is good! Picking up a prop does not make you a good dancer, good dancing does. Make sure you are not using your prop to compensate for lack of dance skill.
Your sword is your best friend!
From Veda Sereem's book Quality of Belly Dancing
The trick to good sword balancing is:
Being a good dancer to begin with;
Moving your body, not your head.
Knowing your dance so well that you can keep all your concentration on your sword.
Sword balancing tends to improve hip isolations, making for smoother movements and better coordination.
Wear a turban or head wrap when you are learning.
Practice in a space that is free of furniture and anything of value in case you drop it. A falling sword can cause damage to the floor as well as to itself.
Keep your eyes level and your chin down.
Start by walking around the room with feet flat, arms at the side and knees slightly bent. Walk forward, backwards, and in a circle.
Add easy steps and movements over time; practice each day and try a new movement when you feel you are ready.
Floor turn:
In a sitting position, slide left leg to the rear, keeping it straight. Arms at the side.
Roll the right hip to the floor to begin the turn.
Straighten both legs, and bend the left leg into the body.
Put your weight on the left leg and lift the body. Now the right leg is to the rear.
Slide right leg forward, lifting the body to a kneeling position. Stay upright or the sword will slip.
Lift the torso until you are sitting up straight. As you come up, the legs will be slightly apart, so you can go into a knee slide.
Ms Sereem's photographic model was a young woman costumed in folkloric dress, very effective.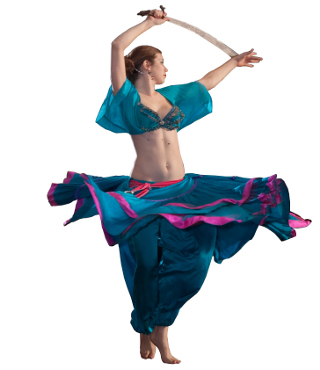 Dancer: Ruric-Amari. Costumer: Maura Enright. Photo: Tammy Howell.
REFERENCES
Sword balancing fascinates an audience, but ONLY if you are able to move freely. If you are scared to move, your audience will feel let down. You must be able to balance the sword, pay attention to the audience, project personality and enjoy your own performance.

Summary of Zaghareet interview with several expert sword dancers, including local Louisville performer and teacher Ruric-Amari, in 2011.

Ruric-Amari 2006 sword dance video. This video features the "infamous" drop with a sword on her head.

Isadora Bushkovski-Hart (or Izzy) is an American dance artist notable for her fluent, eloquent dancing. Part of her meticulous and distinctive style could be attributed to the care with which she had to rebuild her body after being hit by a drunk driver in 2000. Active since the 1990s. Currently based in Colorado Springs, CO.

Shems maintains a good page on sword dancing. Her historical photographic contribution to the never-ending debate on whether women in the Middle East ever really danced with swords is well done.

Veda Sereem is an American dance artist and teacher. She produces instructional DVDs, writes articles, and teaches classes and workshops in the Veda Sereem technique. Active since 1974. She is now based in Maryland.