The Costumer's Path
MANY-COLORED-LAND (You are Here)
— The Look You are Looking For
— The Plan for Head, Arms, Torso, Legs, Feet and Ornaments.
— Fast Costumes from Geometric Shapes
— Troupe Costume Design
— Index to Patterns and Technique
Surprise! Texture is more important than Color.
The costume errors that are the most difficult to recover from are the ones where you've made the right costume out of the wrong fabric. Often there is no way to recover other than to disassemble the costume and use the pieces for something else.
Beginners think color is the most important consideration. It is not! Texture, drape and reflective qualities are the most important. You MUST use fabric compatible with the genre, the personna and the movement you are costuming for. You MUST have a fabric that moves the way you want it to move and which retains shape where it needs to be strong and supportive.
Ditto for the ornamentation. Ornamentation takes a back seat to fabric, too. If you intend a bit of East-West fusion, learn from the mistakes of the ethnic clothes designers in the 70s and 80s and refrain from over-creative ornamental touches. In old books on ethnic clothing construction you will find a Finnish jacket, originally in heavy wool twill, rendered in cotton and covered with big honking red and yellow eagles; a Turkestan-pattern tunic covered with 3-dimensional fluffy ducks; the almost-translucent-linen tunic of ancient Egypt interpreted in American poly-poplin with an almost-life-size (padded!) applique of an Egyptian on the front of the tunic; a Burmese vest whose entire front is a stenciled, padded and appliqued picture of Peter Rabbit... etc, etc. Unless you are designing a t-shirt or the costume for a humorous skit, let the fabric and the shape carry your message.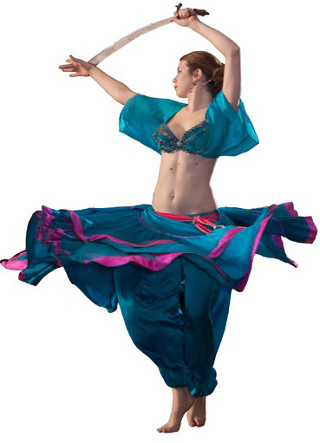 Ruric-Amari sword dance. Photo: Tammy Howell.
References
Maura Enright, Head, torso, hips, legs: Have a plan for all of them. The many options for Orientale, Tribal and Folkloric costumes identified and compared.
Maura Enright, The look you are looking for: What DOES the costuming for Orientale, Folkloric and Tribal dance look like? What does the audience expect to see? Start with the right shapes, fabrics, colors and ornaments. Web.
Maura Enright, Don't Panic! Fast, effective costumes using simple geometric shapes.
Maura Enright, Index of costume patterns and techniques.