Gallery
"'Illumination', which [Ruric-Amari] both choreographed and danced, was the highlight of the evening. Amari's command of the full stage was assured. Her use of the two veils as both part of the intricate choreography and extensions of her body was mesmerizing, as she and the colored fabric swirled through the air and space. Later in the program Amari also danced 'The Tides in the Moonlight' as a solo (injured dancer Nicolette Boese was also listed for this piece) rather than a duet. Again, her assurance on stage mitigated anything missed owing to the absence of Boese. This blend of ballet with touches of ballet danced to a modern, upbeat interpretation of Beethoven's Moonlight Sonata provided an interesting take on moonlight, usually considered 'cool' or 'serene', as the hotness of the beat and moves transformed a typically tranquil conceit. 'The Elements Collide' was costumed in brilliant colors, and as the dancers manipulated the fan veils in sophisticated patterns together with complex floor patterns the Clifton stage exploded with energy and color. 'Water Consumes Us' did, as the program note suggests, bring the company together in one last show of unity and strength demonstrating that even with one dancer short the company can make a performance engaging... Louisville dance fans should add Samovar to their list of dance options in the coming months; it's been many seasons since Louisville audiences have been able to attend such a wide range of dance genres as are available to us at this time." — Kathi Ellis
Oct 2014 :: Interview with Courier Journal for Iraqi Culture week:
Oct 2014 Studio Party
Sept 2014 Americana Festival
Aug 2014 Studio Party
Feb 2012 International Festival
Nov 2011 :: ISA Dance Competition in Lexington:
Oct 2011 :: Concert at Clifton Center:
Sep 2011 on WHAS TV
Feb 2011 :: Mediterranean Echoes
Dec 2010 :: Brown Hotel
Aug 2010 :: Worldfest
Feb 2010 :: U of L Banquet
Oct 2009 :: Mecca concert
Sep 2009 :: WorldFest
Jul 2009 :: Shimmy for the Cure Concert, Colorado
Aug 2009 at Studio Party
Feb 2008 at Mediteranean Echoes event in Cincinatti:
November 2007 at MEDSOK concert:
July 2007 at Mid-Eastern Mayhem in Muncie IN:
March 2007:
Sept 2006
Collages
[ video ] 2011: Premier for proposed March 2012 show. Someone who liked all the large, loud bits put this together as part of a funding proposal.
[ video ] 2007: Ruric & Samovar in action, on stage and off. Assembled by Anna Wagner. Several clips courtesy of Seventh Son Video and Videologex.
[ video ]2006: Ruric-Amari and Ut Gret at Rudyard Kipling and Uncle Pleasant. Assembled by Fred Klein of Seventh Son Video.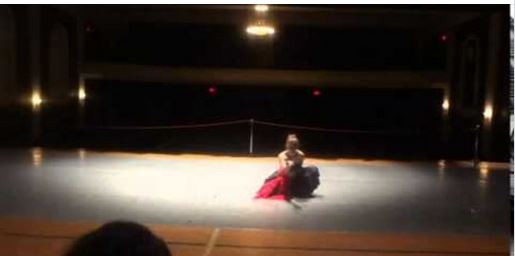 2014 Ruric Amari Indic Idiom performance at Clifton Center. For several years Ruric has been working on a dance genre that combines both Bharatanatyam and Middle Eastern dance steps. She comes up with a new choreography once a year or so. 2014.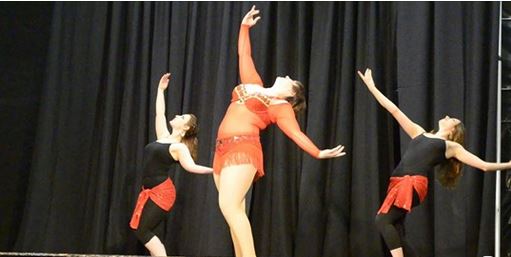 In 2014, Nicolette Boese Spears, a modern dancer, started performing with Samovar in some of the Tahitian and bellydance numbers. She also brought her own special skill set to the group; here's a Bob-Fosse-genre number she choreographed. Nicholette as lead; Ruric and Maddie as chorus.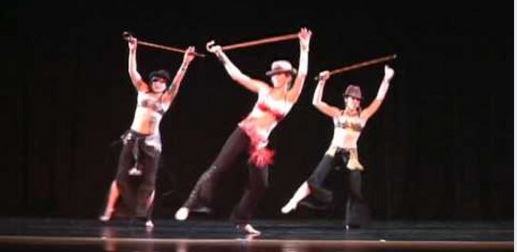 Club Bellydance, a subset of the BDSS, came to town in 2011 with a proposal for a joint concert of local and BDSS dancers. Honestly, I think our local/regional dancers put on a better show than the BDSS. Ruric organized a concert that included Samovar, Crescent Moon dancers, Laylia Dancer, Kelly Craig, Laci Samira, and various permutations and combinations. Here's the hat and cane dance, evolved into a trio choreography. Performed by Ruric, Annie and Blythe.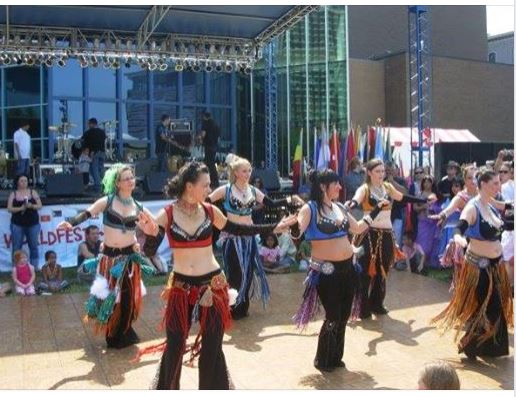 Samovar Dance Company FF: Worldfest 2009, courtesy of Julia Pavlova Peoples, who is dancing in it so probably her husband took the picture. Faith Matthews Muller, Kim, Julia, Tiffany Beamon, Lauren DeNicola and Carrie Gilbert are clearly visible.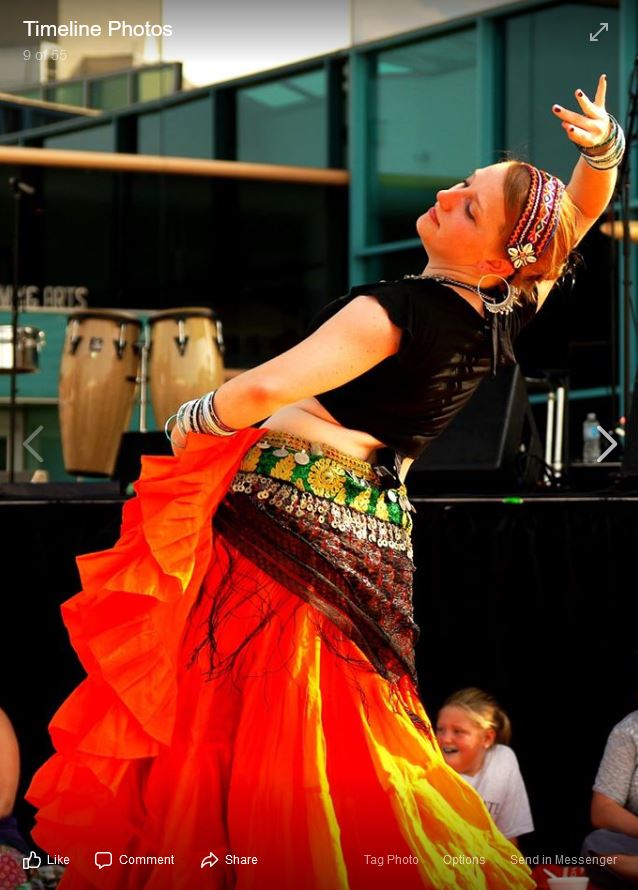 Samovar Dance Company FF: I don't have many group pix from Sweatfest 2011. Here's a solo by Jesse Hendrix-Inman. Jesse was also the dancer who did a veil dance with a wet veil during Rainfest, AKA Worldfest during a 3-day downpour. 'They' collapsed the stage to protect it from the rain and sent the dancers across the lawn to perform under a tent.. A lovely dancer, a real trooper and, as of 2015, a new mother! Picture by Dawn Bruneau.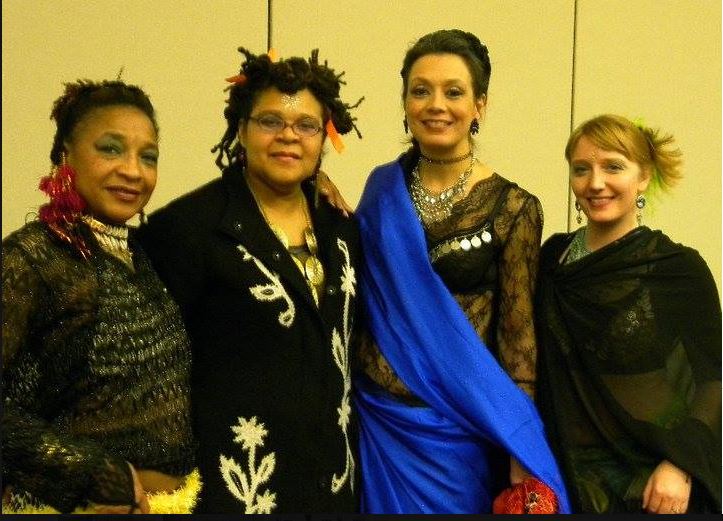 Samovar Dance Company FF: What's cuter than a kitten picture? A 2011 picture of Samovar Tribal dancers! Taken in Cincinatti at the 2011 Med Echoes event. Left to right: Karen (who now works as a yoga instructor), Miranda (who went off for an advanced degree in another city); Kimberly Brumleve; and Jesse Hendrix-Inman.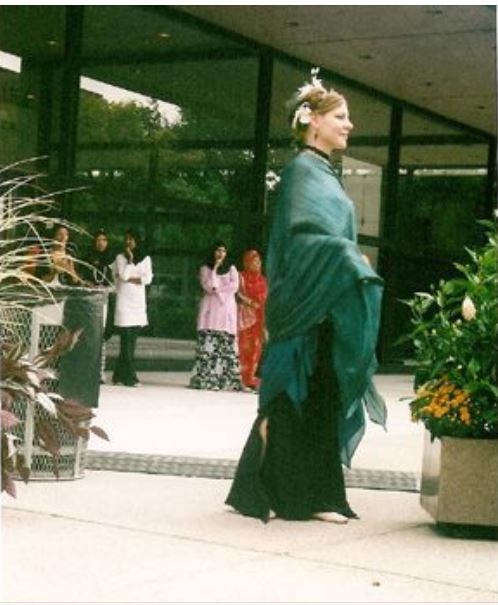 At Worldfest 2006, some Middle-Eastern women watch Elizabeth watch the rest of the troupe from 'off stage.' Photo by Perry Williams.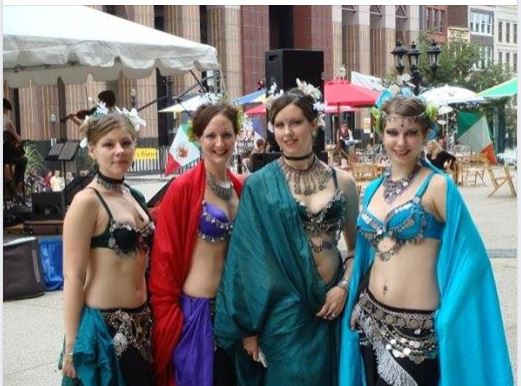 Ruric brought Samovar to World Fest for the first time in 2006. Two of the dancers have moved on but Theresa Huynh, in purple, is still with the Company as a principal dancer. Photo by Tim Huynh.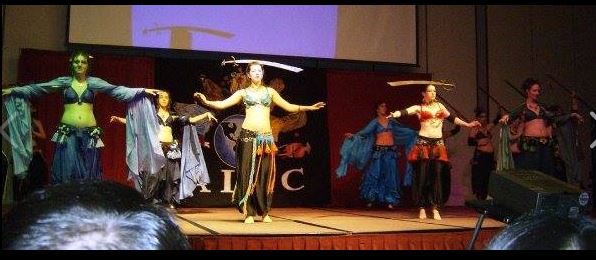 In 2009 Ruric created 'Delusion to Truth,' a nine-minute choreography which depicted, among other things, the difficulty of stopping a cycle of revenge and violence. The audience included many young adults from the the Middle East and points east. As the story line unfolded, the audience got quieter and quieter. I had no idea what was going on in their heads until the dance ended and the audience broke out into cheers and loud clapping. Photo by Jennifer Dean, I believe.