HISTORY
From 1979 Belly Dancer Magazine In 1979, Jadaya (of Camp Hill PA) came to Louisville to give a workshop for MEDSOK (Middle Eastern Dance Society of Kentuckiana) at the Orbis Studio, which Jadaya later described as the studio that sparked local interest in Belly dance. MEDSOK was, at that time, 18 months old. Jadaya interviewed eight teachers for her Rovin' Report article in the Sept/Oct 1979 issue of Belly Dancer magazine.
Vicki Naiser (Sadah), who was born half Lebanese, was around Mid-Eastern music and dance for her whole life, learning traditional movements from the ladies at her church socials. She eventually started teaching at Orbis and became part of a touring show, Holiday in Greece.
Patty Perryman (Tahira) trained in ballet and Modern dance, eventually performing with several Kentucky ballet companies and teaching as well. When she took a full time job and had to give up her rigorous ballet schedule, she tried belly dance lessons at Orbis and ended up teaching there. Patty felt that Modern dance was the transition she needed to gracefully move to belly dance, eventually becoming a teacher at Orbis in 1974. At the time of the interview, she was touring with Holiday in Greece and looking forward to a long career as a night-club performer.
Sandra Craig (Jameela) (now Jamila Zahran) began formal dance training at 25 with ballet, then took belly dance after her marriage ended. She felt that ballet training aided her with belly dance. She took on teaching at Orbis when Vicki and Patty went touring, and saw herself teaching long after her performance days are over. Her day job was teaching nursing at Jefferson Community College, but she was making more money with belly dance than teaching and was seriously thinking of quitting her job.
Dot Elpers (Nadja) started belly dance as a way to get out of the house. Her first teacher was Patty Perryman. She started teaching, performing, and opened (and closed) a studio, despite the development of a severe vision problem.
Judy Miller (Rhea) studied ballet before coming to bellydance in 1975, taking lessons with Patty Perryman before starting to perform and teach herself. Her whole family ended up being involved with her belly dance avocation; her husband learned to drum for her, one daughter took up zills and another took up belly dancing herself.
Donna Duncan (Donna) found belly dance to be the first dance to make her happy! She taught at home and performed at parties and was one of the original founders of MEDSOK.
Norma Wirt (Nadira) started by taking lessons secretly while her husband was working. After he saw her dance, he became her biggest fan. Afte moving to Clarkesville, Indiana (across the bridge from Louisville) she began studying and performing with Terry Sellers, eventually taking over Seller's classes after Terry call her and asked her to take over her class for three weeks while Terry was out of town. "Norma accepted and hasn't seen Terry since the telephone call! That was two years ago." She never learned the reason why her friend had to leave town.
Mary Brown (Marianna) started studying with Judy Miller in 1975. One of her teachers was a Arab male who travelled teaching Yoga and belly dance. "He did not feel movement correction was necessary, leaving the development of any kind of technique entirely up to the student!" Mary taught at her home and, as a community service, at a nearby women's prison."
1986: Christmas in the Land of MEDSOK, by J. Kappell
In the land of MEDSOK it's Christmas Eve,
and all waited for Omar you see.
Ted waited patiently with his camera in focus.
"I'll not miss him this time, with his hocus-pocus!"
The tents were decorated with a festive air;
Incense burned, and torches flared.
Security was tight around the land
as the news spread of the approaching caravan.
Bill T and his helpers, Dave 1 and Dave 2,
were ready to escort the caravan through.
Sharon was reading the tarot cards for a sign,
Cathy was sipping Pina Coladas she thought were divine!
It finally happened, you could hear the tingling zills,
as Omar's caravan came over the hills.
His sleigh was filled with gifts and food
To make merry and dance with the music of the oud.
Humphrey the camel was in the lead;
Wearing his bells, palettes and beads.
He snorted and stomped and then suddenly fell flat,
Omar brought him up with a slap on his humpless back!
His entourage followed in sleighs of red and gold.
Tahira, Phaedra, and Jane, or so I'm told.
They went through the market place as vendors hawked their wares.
The aroma of rare costumes and jewels filled the air.
Zaiyre's, Happy Grams and Telika's Treasure Chest,
and of course Bon Voyage, now would I jest?
The passed by the artists with their colors so bright,
Tara, yvette and Debra what a beautiful sight!
At last Omar came to a stop,
as Humprey the camel groaned and flopped.
They entered the tent and the Hufli began.
Genie, Paul and Lura did a dubke with the band.
Sharon and Sheri played the tamborine with skill
as Sandy kept the rhythm with her zills.
Bill escorted the dancers onto the floor,
as they danced Humphrey watched through the door.
He kept time to the music by clomping his feet,
He brayed and snorted, or was that a zagaret?
Rebecca, Jamila and Zaahia too,
Danced through the night without a clue
that Shadiah was sliding down the tent pole
and Jalilha tripped, or was that a hole?
Why is Naeema standing alone on the stage?
That thing Linda's wearing belongs in a cage!
Oh the lights, so bright, where did everyone go,
Aliye had too many again you know.
A big box is presented to Omar at the door,
The box tumbles over and Saheeba is on the floor!
Omar throws back his head and roars with laughter
At the sight of Fatima before and after!
The Daughters were there fussing over Humphrey,
making sure the big ham was nice and comfy.
The time has come for the hufli to end.
Navit runs to the door, yells "It's time!" and then
Talitha flies over with Erik in command
while Steve throws a potion over the land.
Jane hurriedly writes down these events just in case,
but no one will believe there is such a place.
Omar and his entourage leave quickly and quietly
through the sleeping oasis, and it's quite likely
that you heard him say as the sped throught the night,
"MERRY CHRISTMAS TO MEDSOK" and to all a good night.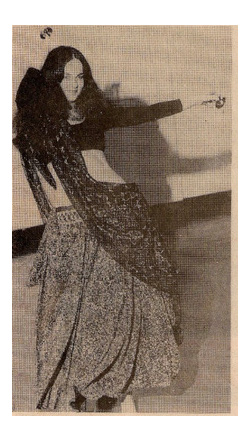 Jamila Zahran, a founding member, in the 1981 Madison Messenger.
Timeline
1978:

MEDSOK is formed.

1980:

48 members.

1982:

A Society logo has been adopted, featuring a female and male dancer.
November 6: Fall Huffli at the American Legion Post in New Albany.

1983

Sept: International Veils show at Fort Knox.
Sept: Hawaiian and Tahitian dance workshop, taught by Charmaine, at the New Albany Holiday Inn.

1984:

March: Spring Huffli at the New Albany Holiday Inn.
March: Zaiyre sponsors George Abdo in a concert at the Knights of Columbus Hall in Indiana.
Phyllidia sponsors Morocco in a workshop / concert.
May: Discussion on club unity and a general air clearing. No personal flyers will be mailed with the newsletter.
June: Zaiyre sponsors Azur Aja in a workshop and show at the Holiday Inn in New Albany, during which Ajur advised making a little knot with a rubber band in the center of a circular veil straight edge.
July: MEDSOK members perform at the Arab Heritage Weekend on the Belevedre.
July: Society picnic.
Nov: Fall Huffli at the Holiday Inn.
Member reports dancing with a new male partner, Dartanyan, at the Fort Knox Copple Recreation Center.
Tahira reports her steady gig on Friday and Saturday nights at the Cashbah on Bardstown Road.

1985

35 members.A questionnaire goes out to members looking for reasons for declining membership.

1986

Oct: Several members of MEDSOK dance at the Harvest Homecoming.
Nov: MEDSOK sponsors a workshop with Conchi.
Nov: Several members dance at the annual Arab Dinner.
Dec: Christmas party at Rodeway Inn in Louisville.

1987

MEDSOK sponsors Tahira to attend an (unspecified) workshop in Cincinnati, and Sandy to attend a Suhaila seminar, a Salia seminar, and a Cassandra seminar.
Talika's Rakesaat dances at the Harvest Homecoming.
Nov: Jamila Zahran and Tahira teach the MEDSOK workshop.
Dec: Christmas party with Hafli and mini-workshop.

1988

23 members. The President declares "Make or Break" time for the club, citing decreased interest on the part of community centers to offer Middle Eastern dance as a primary factor in membership decline.
Miss Kentucky (Mikka Darby), a student of Phyllidea of Lexington, performed an oriental dance as her talent.
Jan: MEDSOK initiates a $5 Associate membership that allows dancing at the Haflas but no other privileges.
Tahira presents a Polynesian dance demonstration.
June: Halfa.
Oct: Several members perform at Harvest Homecoming, Arab American Dinner, and International Student Dinner at U of L.
Nov: Program on Classical East Indian Dance by Meena Deshpanda.
Dec: Dinner and show and mini-workshop at Holiday Inn in New Albany.
Telika sponsors Amaya for a workshop.
Aiesha and Jamila sponsor Dahlena for a workshop.
Jamila and Mara sponsor Victorio Korjhan for workshops, including ones on MED and Flamenco fusions.

1989:

July: annual picnic.
Nov: Workshop and show with Aegela as teacher cleared with $300 in the black.
Nov: Arab-American dinner dance.
Dec: Christmas party and dinner, net loss $253.
Member reports her regular Sat nite gig at the Swiss Restaurant.
Shelby County schools refuse to allow MEDSOK to perform there for a fund raiser.
U of L International Banquet looking for dancers.
Telika's Rakesaat reports gig performing on River Queen each Wed in June.

1990

June: Dance program on Hindu, Middle-Eastern and Polynesian dancing in Bloomington, IN.
Jul: Picnic
Oct: Perforance at Harvest Homecoming.
Nov: Arab-American Dinner Dance.
Nov: MEDSOK workshop and show with Ajure Aja cancelled because of scheduling conflicts with other regional workshops, particularly HOratio Ciefuetes giving a workshop in Indianapolis the same month. Event scaled down to a hafla and mini-workshop by members Sandy and Tahira.
Tahira and Jamila dance with the Ballet Espanol at the Iroquois Amplitheater.
MEDSOK decides to produce a cookbook.

1991

June: Picnic
Jan: Wall Street Journal reports that between the shaky US economy and the Gulf crisis the market for belly dance entertainment has tanked.

1992:

New logo: Lotus flower in gold and green, designed by Sherrie Dunn.
Jan: New member dinner, drumming by Gregg Aker.
Jamila sponsors Zeina in a workshop and show.

1998:

22 members.

2003

Jo Hadley performs Uzbek dance at Crane House Asian New Year party.

2005

Nov: MEDSOK sponsors Margo Abdo O'Dell in a workshop and concert.