What DOES the costuming for Orientale, Tribal and Folkloric dance look like? How are they similar, how are they alike?
You will find shared shapes but distinctly different fabrics.
Costume Triange
Think of Orientale costuming as a triangle, with costuming choices sliding on the spectrum between one point and another.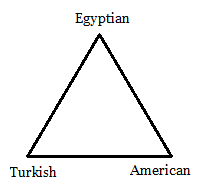 Egyptian Costume
Egyptian costumes project a sleek, cosmopolitan, controlled silhouette with a shiny, highly-decorated surface that broadcasts movement and reflects light: perfect for a genre that prizes the ability to "dance on a tile" with clarity, intensity and emotion.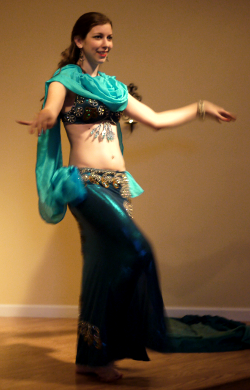 Ruric-Amari, Egyptian style. The belt has been replaced by elaborate beading around the hip area, a recent innovation. Less durable than a separate belt but also easier to fit: if the skirt fits you, so does the belt. Photo by D. Bruneau.
Turkish Costume
Costumes that emphasize legs are common among Turkish dancers, to the point of omitting the skirt altogether. The bras are often scanty, with an effect of partial nudity, and pasties instead of bras were not unheard of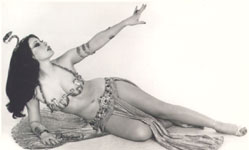 Princess Banu, active during the 70s and 80s, and still teaching today. Physical beauty was and is important to the success of a Turkish bellydancer. Even Didem, a very popular, very young Turkish dancer, has already had major surgical amplification.
American Orientale
American Orientale, which evolved in the 60s and 70s, was heavily influenced by Turkish dance and costuming, then tempered with influences from folkloric costume and dance, TV shows and movies, and field research.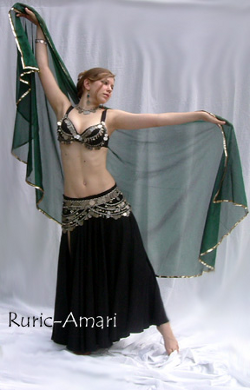 Ruric's costume is American Orientale: heavy coin belt, jewelry and bra drape from Cats Paw Dance Belts and a 3-half-circle-skirt of heavy silk with side slits that allowed it to be tucked as desired. Photo credit M Enright.
Folkloric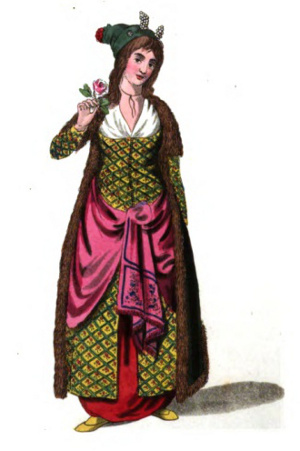 A Turkish Sultana, drawn in the early 1800s by Dalvimart. Includes elements used in folkloric costumes today: close fitting coat, pantaloons, and a shawl around the hips.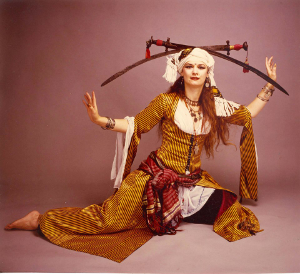 Marguerite Kusuhara in Folkloric costume. Marguerite has been performing Orientale and folkloric dance for many years and has designed some of the best folkloric outfits on the planet. Here she is in a tunic, pantaloons and head wrap with a Ghawazee coat over all. The cut is no different than a thousand other folkloric outfits, but Marguerite's choice of fabric and color and her insistence on good fit makes it devastatingly stageworthy. Photo used with permission.