The first time Ruric tries something new translates into a challenge for me. My coping strategy is consistent. First, the scramble for information on what others have already done; then, the isolation of the elements that MUST be included, the ones that can be omitted, and the difficult ones that can be rendered in a different way.
Ruric's first costume was bought at a concert when she was fifteen. It was a purple tie-top and multi-layered skirt covered with sequins and pailettes. She had never seen anything so dazzling! The vendor was reputable but the costume was on sale and the fabric was a loose chiffon with no finished seams. I bought it with the intention of reinforcing the stress points, but before I could get a 'round tuit' Ruric had worn it several times and it was pulling apart at the arms and waistband. When we went to the next concert, she wanted another costume. I announced that the last costume had ripped apart and I wasn't happy about it. A fellow turned around and told us 'MINE don't fall apart!' This turned out to be Perry Williams, who had been making coin belts for years. I was intrigued by his sales pitch and asked for his card.
2004 is when Ruric went pro. She got a gig and then came home and told me she needed a costume. Since she'd been watching me make ballet and Halloween costumes for all of her life, she assumed that I could whip up a belly dance costume as well. However, belly dance is a lot different from ballet and trick-or-treating. The movements are different, the stresses on the costumes occur in different places, and the audience expects a completely different presentation. Fortunately, I had kept Perry William's card. He made up a beautiful silver coin belt and bra drape while I made a bra and circle skirt from black silk to go under it. The belt was beautiful and was good advertisement for Perry, since dancers who saw it wanted a belt too... the secret nightmare of anyone with a distinctive costume piece. However, since Ruric's version cost $300 (in 2004 dollars) the number of exact copies was minimal.
Beautiful as the coin belt was, Ruric needed more costumes and at least one of them needed to be beaded. Ruric's dance teacher sold us two used beaded bra and belt sets, pink and blue. The beads were a good color for Ruric, but the skirt and bra fabric were not. Of course we didn't notice this until after we got home. I spent a lot of time driving around town looking for fabric that would both match the beads AND look good on Ruric. The only stuff I could find was synthetic, but at least it was the right color.
The Pink Costume with the new skirt turned out to be an excellent investment. It was used many times and finally went to live with Shaida, who loves pink anything. It also became a costume of choice for folks looking to 'borrow' pictures for their own websites. I found it selling workshops in South America, swords in Georgia, pillows in NYC, rugs in Japan...
The second used costume, a blue and white one, went to one gig, started spewing beads all over the floor, and never went out in public again. This is how I learned that the thread in old fringe is often rotten. Later I scavenged the beaded appliques and the pearls in the fringe for a different costume.
Ruric was proud to have a beaded costume but she loved her coin belt best.. she liked the way it felt and sounded when she danced. Beads have a sound, too, but different than a good coin belt. After dancing in her coin belt for a while she started to use it like an instrument, like zills. So this meant bras and skirts in different colors to go under the coin belt. Rather than spend hours hunting for fabric, I decided to try dying silk. Dharma Trading had instructions on their web site and claimed dying was easy. It WAS easy, eventually, after I bought a pot big enough for yards of silk and a measuring scale for dye.
2005 was a continuation of 2004, except now I was costuming several dancers... Ruric's new project, Troupe Samovar. Everyone had their own color and coin belt. One of the dancer's husbands called them Troupe Spumoni because of the different colors. I loved the brilliant colors and the way the costumes moved when the troupe danced. And silk doesn't cause you to sweat the way synthetics do! I made lots of mistakes with design and fabric choices. I kept those mistakes and about three-quarters of them have been made over into something usable by an older, wiser me.
2006, more of the same. More performances, more troupe members, and more mistakes. I got really good at making circle skirts fast. Dying silk fabric made more and more sense as the need developed for matching bras, peasant tops, vests, veils, and pants. But the mistakes! The Great Choli experiment, for instance, was when I first ran into the problems caused by attempting to dress a group that was now doing a lot of experimental mid-eastern dance (X-Med) using costume patterns designed for traditional dancers who did not jump, leap, twirl, etc.... you get the idea. Awwwgh! There was also my attempts to come up with time-saving methods to dye that ended up proving that the way to get the best color with the least damage to the silk was the slowest way.. use a large pot and heat the fabric up slowly with the water. Silk is protein, like hair, and does not like sudden changes in temperature. Slow changes in temperature take time. Period.
2007 was the first year that I started designing stuff that was a bit different. The Square Round skirt, for instance. Ruric and I both wanted her to have something unique for her performance at Folktours, in PA. We did not agree on the design until a week before the event.The next six days were a blur of designing, dyeing and sewing. I finished the last stitches on the hem trim as we pulled in through the entrance to Folk Tours. 2007 was also the year that I revised my approach to putting coin drapes on bras. Ruric and Perry designed beautiful, substantial bra drapes whose weight snapped any thread very quickly. Some of the thread stitches would slide through the gaps in jump rings and then the remaining threads would snap from the weight of the coins. I asked Perry how his other customers kept drapes on and he said safety pins - I nearly fainted! But I finally came up with a solution - rat tail! I weave the rat tail through the drape chain. This visually ties the chain and the silk together. It is a more sophisticated look, if such a phrase can be applied to coin drapes. AND - it both hides the stitches AND prevents them from slipping through the loops, which prevents the thread from breaking... Safety pins ha!
Halloween of that year (2007) brought a new challenge... Ruric decided that tribal dance was the best fit for an upcoming gig with a live band. A basic tribal bra and belt for Tribal is less demanding than the basic cabaret outfit. However, I only had 48 hours AND a day job and no way to fit the dancers. Fortunately, all of them were both slender and young, which meant my best guess worked well. The patterns became the basis for lots of costumes in the future.
2008 was the year Ruric took a dozen or more dancers to Med Echoes in Cincinnati and everything had to be special. This challenge turned into the beginning of the Wave Pants initiative. The first half dozen pair were silk and they were beautiful. Troupe members who had to wear regular costume pants felt aggrieved. The next half-dozen were synthetic silk. I now have a garment rack of wavy, silky pants in the costume room.
In 2009 Ruric choreographed a piece that had 18 warriors on stage. Everyone was eventually costumed, but not as well as I would have liked, due to lack of communication. Veils that could be used in double-veil work by students who did not have Ruric's long arms and skill were a challenge that also needed to be met. Persuading dancers to stop dropping veils on the floor and walking on them when they were done with them was also a challenge.
2010's first challenge was my decision to start using synthetic fabrics in costume pieces other than pants. We had too many dancers for nothing but hand-dyed silk, and sometimes I needed textures that I could not create myself. A popular synthetic turned out to be what a fabric store cutter described as an 'Angry' fabric. It frayed when you so much as looked at it, didn't want to be sewn into shapes that could be worn, and the stray long threads that resulted from ripping the fabric to workable lengths often tripped me if I let them tangle around my legs.
The second challenge was the new Bollywood troupe. Choli, pants, blouse, and skirt, all similar to belly dance pieces but not quite similar enough, and the fabric and decorations are very different. The choli is tailored as tightly as a corset, and can take me up to fifteen hours to create. Slender dance pants have to be tailored at the ankle; the fuller ones need serious adornment at waist and ankles. The blouses are small, tight, and ornamented. The skirt is not a circle, but created of many gores.
And finding a source for fabric! First of all, there isn't a fabric shop that sells Indian fabric anywhere around these parts. So I have to mail order it, trusting that the fabric that shows up will be close to its on-line representation or at least usable... to say nothing of arriving BEFORE the performance. Second problem: Ruric and most of her troupe do NOT have complexions that match the majority of the fabric from India. But it is absolutely essential they look beautiful. Ruric's Indian customers are the most demanding in point of costume.
At the beginning of 2011, Ruric moved out of the studio at Mellwood and, after some consideration, ended up in a smaller studio that she really loves. The move impacted all budgets, so I started working a lot more from my fabric stash than I had been. Many months later, I cannot say that much of a dent has been made in the stash. I really do have my own fabric store.
I have learned a lot over the last few years, but I haven't changed much. I still hate working with synthetics, but the troupe is so large and the performance requirements so varied that I am obliged to use them for certain applications. Many of the Wave pants are synthetic, as are most of the Bollywood costumes. I still dislike stretch fabrics as well, which does not sync with Ruric's notion of wearing ease. Ruric is young; if she can pinch 1/4" of fabric at a side seam she starts worrying about looking fat. And she dances dresses made out of non-stretch material to shreds. I laugh when I read how pro dancers convert dress gowns into dance gowns... If we ever come up with a full-length dress design that suits both of us, I'm patenting it!
My current challenge: creating a costume for upcoming performances that will allow Ruric to perform Bharatanatyam, Bollywood and her Indic Idiom style dances without more than minor costume changes ... . First, the familiar adrenaline rush of shock and horror; then, the scramble for information on what others have already done; then, the isolation of the elements that MUST be included, the ones that can be omitted, and the difficult ones that can be rendered in a different way. I'm especially concerned because Bharatanatyam is, essentially, a prayerful yoga and I am of course concerned about disrespecting some important aspect. Ruric's guru is in India and cannot be consulted. So, forward. I'll do my best. It may end up being great.
PS: the original purple chiffon costume is still in my 'to be reworked' box.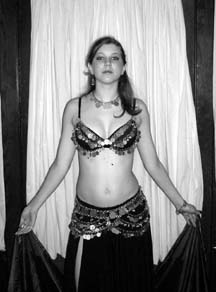 First coin costume 2004.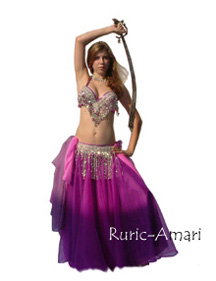 Pink Costume pictures travelled the world.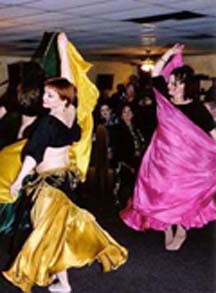 Troupe Spumoni. The tops were huge because everyone complained about showing round tummies, stretch marks, whatever. We were all beginners.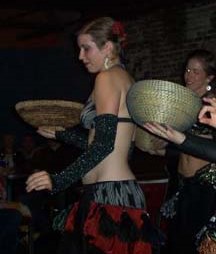 Ruric and Samovar in the first Tribal costume.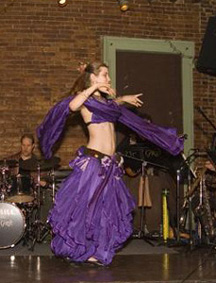 The first Wave pants, hand-dyed silk, with matching bra and veil.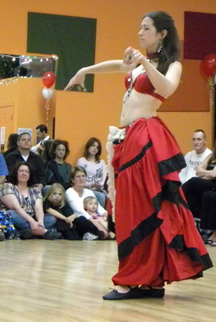 Anna Beth in a red outfit made from the Angry Fabric.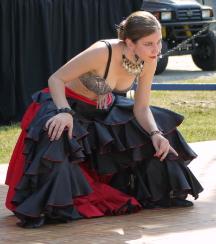 100 percent polyester pants in 100 degree weather! Gatorade time!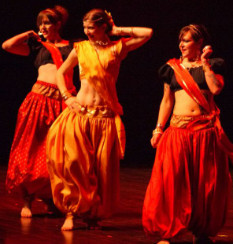 A sari, a window curtain, a scrap or two, some gold braid...